The Canadian Union of Public Employees is Canada's largest union, with 700,000 members across the country. CUPE represents workers in health care, emergency services, education, early learning and child care, municipalities, social services, libraries, utilities, transportation, airlines and more. We have more than 70 offices across the country, in every province.
Sign up for Important announcements from CUPE National. Visit CUPE National www.cupe.ca
March 15, 2022
Invitation – Let's Connect: A National Space for Black, Indigenous and Racialized CUPE Members
If you are a CUPE member who identifies as a Black, Indigenous and/or racialized person, you're
invited to join a national space that is designed just for you. This event will be hosted by Debra
Merrier, CUPE National Diversity Vice-President representing Indigenous workers and Aubrey
Gonsalves, CUPE National Diversity Vice-President representing Black and racialized workers.
More information, click on the link below.
https://cupe.ca/lets-connect-national-space-black-indigenous-and-racialized-cupe-members
April 28 National Day of Mourning for Workers Killed or Injured at the Workplace
March 8, 2022
Dear OMERS Plan Member,
Today, CUPE Ontario is releasing a report examining executive compensation at OMERS which should raise concerns for all plan members.
Using publicly-available information, CUPE researchers compared the executive compensation received by the top five executives at OMERS to that paid to executives at comparable defined benefit pension plans and funds.
The report, which looked at compensation over a ten-year period, discovered:
OMERS pays some of the highest absolute rates for its top executives despite being one of the smaller plans in the group in terms of assets under management. Indeed, OMERS is paying top executives more than twice the average compensation, per billion dollars of assets under management, of all these plans.
OMERS pays some of the highest levels of top executive compensation despite having investment returns that underperformed every other plan. As a result, OMERS plan members are paying almost 67% more for every 1% of investment earnings.
OMERS benchmarks – what they expect to make each year – are among the lowest of all the plans compared. Despite these lower expectations, over ten-years, OMERS failed to meet those benchmarks but continued to pay relatively high compensation to top executives.
CUPE Ontario has voiced concerns with the administration of OMERS in the past. Last year, we published, "Not Just One Tough Year", which clearly showed that over the past decade, OMERS investment returns have underperformed those of comparable defined benefit pension plans and funds.
Investment returns are a critical part of funding the pensions of front-line workers. Poor investment returns can lead to more pressure to reduce the pension benefits and/or increase contribution rates.
OMERS members deserve to know why their plan is paying higher rates of compensation to top executives, while its investments are underperforming compared to the other defined benefit pension plans and funds.
That's why CUPE Ontario, the largest representative of workers in the plan, is continuing our call for OMERS to cooperate fully with an independent and transparent review of its investment returns conducted by sponsors like CUPE. To join us in that request, click here to send a message to OMERS.
Take Action for an Independent Review
March 2, 2021
Dear OMERS plan members:
We wanted to give you an important update about OMERS. As you may have heard, the pension fund lost more than $3 billion or -2.7% last year, a shortfall of more than $10 billion compared to their own benchmark returns for 2020.
This is the result of some very questionable decisions made by investment managers that business media giant Bloomberg described as "bad bets" with your pension savings, while the five top OMERS executives collectively made $8 million in bonuses last year.
And this isn't new – it's part of a longer pattern of underperformance at OMERS.
Well, now it's time to demand accountability and to ramp up our calls for increased scrutiny of OMERS. We are currently in the process of demanding an immediate and comprehensive review of OMERS' failed investment management in recent years, with full disclosure to plan members and the involvement of unions and employers.
We simply can't allow OMERS executives to get away with washing their hands of these investment results or blaming COVID for their poor 2020 returns. On the exact same day OMERS reported losses, Quebec's large pension fund manager, the Caisse de dépôt et placement du Québec (CDPQ), reported positive 2020 returns of +7.7%.
This latest bad news from OMERS is the result of their decisions and CUPE Ontario will continue to oppose any attempt to make plan members pay for them.
To CUPE Ontario's 120,000 active OMERS plan members, we will take action. There will be accountability.
Please keep an eye out for updated information, including ways you can take direct action as a plan member of OMERS.
Fred Hahn
President, CUPE Ontario
January 2021
Join CUPE Ontario leaders, staff, and experts for a Zoom webinar about COVID-19 vaccines at 6:30pm next Monday, February 1st.
We know there are a lot of questions about vaccines, including questions about safety, effectiveness, and your obligations in the workplace.
This call is open to all CUPE Ontario members and will provide an opportunity to ask those questions and debunk vaccine myths.
Please note we will be offering simultaneous French interpretation and ASL.
December 2020
Highlights of the December 2020 National Executive Board meeting
Distribute the information throughout your local to keep your members up-to-date on what's happening within the union.
National President's Report and National Secretary-Treasurer's Report to the December 2020 National Executive Board meeting
Circulate the reports to members of the executive and make them available to interested members for their information.
Economy at Work – CUPE's economic and bargaining newsletter
Circulate to members of your executive. Consider using the report as a bargaining reference tool to provide accessible information and analysis of economic developments.
August 11, 2020
Join CUPE Ontario in this important Zoom launch that kicks off the campaign to fight back against Bill 195's attack on front-line workers.
With the legislation, emergency orders that were supposed to be temporary and which permitted employers to ignore sections of our collective agreements, are now extended indefinitely.
This is an extraordinary, undemocratic, and unprecedented abuse of power. Front-line workers – who helped keep us safe and delivered the critical services in a pandemic – deserve better than an attack on their legal rights.
They deserve to have their rights restored today – and we're launching province-wide actions to make sure they are.
Save the date (Thursday, August 13, 6:00 p.m. – 8:00 p.m.) and join us for a discussion and planning session with CUPE Ontario leaders in sectors impacted by Bill 195.
July 21, 2020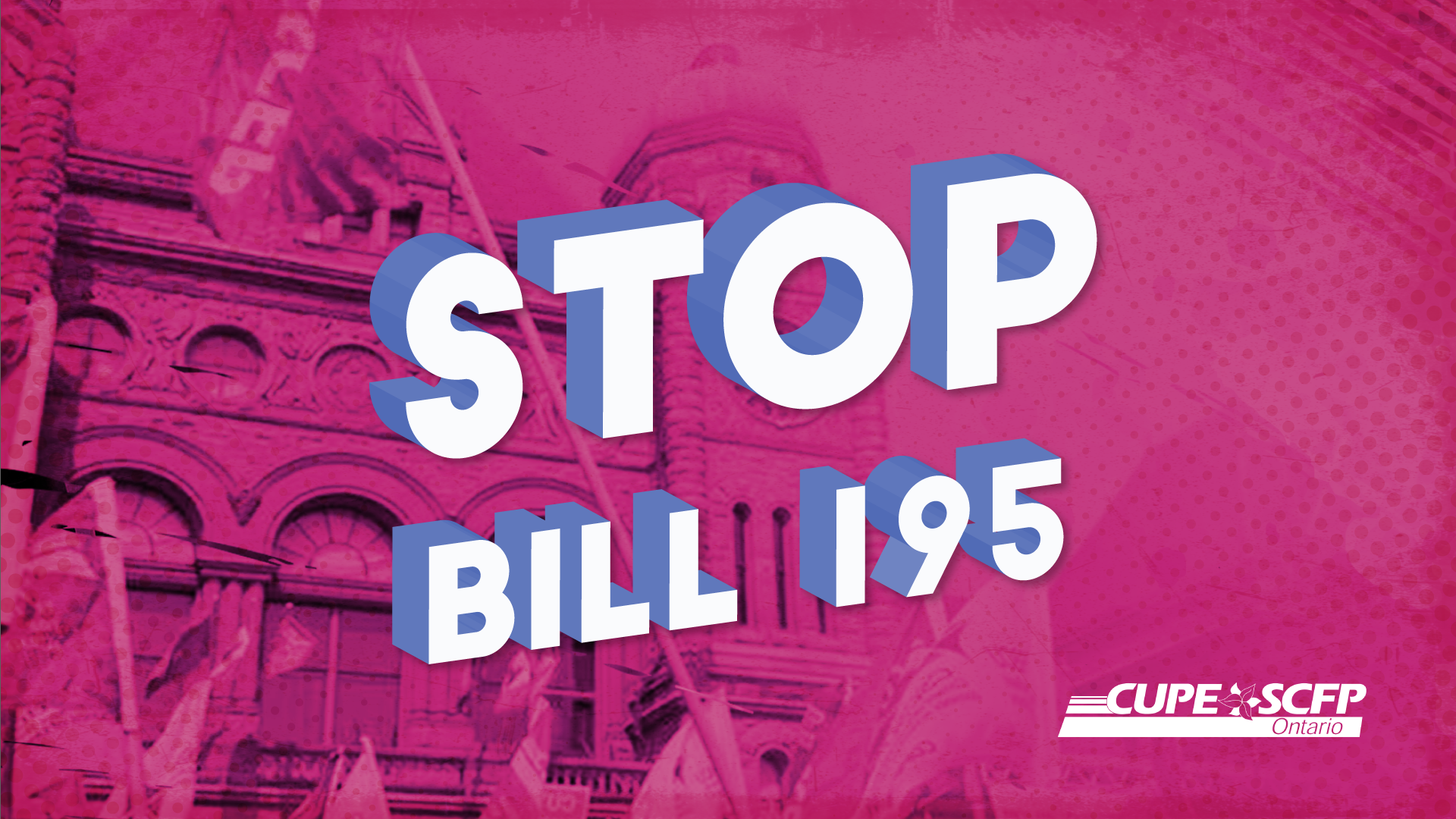 We're reaching out today to ask you to send a message to your MPP to demand they vote against Bill 195—legislation that will have far reaching negative consequences for health care and other frontline workers most affected by the Coronavirus pandemic.
Bill 195 extends the emergency orders which override key parts of frontline workers' contracts indefinitely, even though the bill says the emergency is over.
In particular, layoff and reassignment rights, vacation rights, and contracting out are most at risk.
The bill empowers employers to change workers' shifts with no consultation—whether they have childcare issues or not.
It cancels all leaves and vacations or tells workers when they must take them.
It can change workers' jobs and send them to other sites whether they have transit issues or not.
Bill 195 is an attack on basic workers' rights. Stand with frontline workers in opposing it.
June 24, 2020
Dear OMERS Plan members,
CUPE Ontario is profoundly disappointed to report to you that the OMERS Sponsor Corporation Board of Directors has voted in favour of eliminating the guaranteed indexing of your pension for service worked after December 31, 2022.
The "Shared Risk indexing" proposal passed. This means that for service worked after December 31, 2022, annual indexing for that portion of your OMERS pension could be reduced or even eliminated. It is especially bad for younger workers or new hires who will have to work most or all their career without getting the guaranteed indexing of their pension in retirement. Plan members who are already retired are not impacted by this change.
Indexing is the annual increase to your pension to keep up with the cost-of-living. Just like your union fights for wage increases, we must also fight for pension increases. Our living standards should improve, not decline. After a lifetime of work, workers expect to have a decent and secure retirement. That means having a pension that increases with the cost-of-living, so we don't get farther and farther behind. Indexing is especially important for workers who don't earn as much as they should. For example, the average pension for a CUPE school board worker after 30 years of service is only about $15,000/year.
Ending the certainty that your pension will increase by the cost-of-living every year is a major blow to your retirement security. Instead of having that guarantee, it will be left to the Board to decide every year, with no real rules to follow. We will now have to fight every year to pressure the same Board that just eliminated guaranteed indexing to grant full conditional indexing.
A two-thirds vote of the Board was needed for "Shared Risk indexing" to pass. If all the Worker/Retiree Representatives stood united and voted against it, it could have been defeated. Instead, it's clear that some voted with Employers on this proposal. CUPE, OPSEU, ATU, CIPP and several other unions who collectively represent a majority of Plan members were opposed to this proposal. Through CUPE Ontario's defendyouromers.ca website, almost 60,000 e-mails were sent to the Board urging the Representatives to vote no. But the Board of Directors has ignored the voices of unions and Plan members and has eliminated guaranteed indexing in the middle of a global pandemic.
Other plan changes were passed. The Board voted in favour of 3 technical changes that make OMERS service buybacks easier for workers on layoff or reduced earnings in light of disruption caused by COVID-19. These changes should have been implemented far sooner, but we believe OMERS decided to package them today with "Shared Risk indexing" in an attempt for a positive spin. The Board also passed an amendment that makes it easier for part-time, casual and contract workers to join OMERS – which CUPE Ontario fully supports. These other plan changes in no way make up for the fact that the Board has passed "Shared Risk indexing", a major concession for Plan members.
The past 9 months have exposed grave concerns about the leadership of OMERS and the direction the Plan is headed. A concerted effort has been made to distance the Board of Directors from the Sponsor Organizations and Plan members they represent. CUPE Ontario is extremely worried that the Board of Directors and key decision-makers have lost sight of the Plan's fundamental purpose.
We know this news is difficult during this already incredibly challenging time working and living amid a global pandemic. Members have been rightly focused on keeping our families and communities safe and healthy.
I promise you that our campaign does not end here. CUPE Ontario members, the single largest group of members in OMERS, will never stop fighting for the indexing of our pensions. Working with other unions, we will campaign to take back the Plan from those who listen more to the bankers and Bay Street types than Plan members, and make sure OMERS is working in the interest of workers. We will never stop fighting to fix OMERS.
Stay tuned for future actions.
In solidarity,
Fred Hahn
President of CUPE Ontario
June 15 2020
For the 3rd time in 4 years, OMERS is trying to take away guaranteed indexing, an important benefit that protects our pensions from inflation when we retire.
They cynically call their proposal to cut guaranteed indexing "Shared Risk Indexing" but fail to mention it is only workers and retirees, like us, sharing the risk. This proposal, if passed, will actually benefit employers by shifting risk from employers to workers and retirees.
Get The Facts – Defend your OMERS Pension With NEW TOOLS
OMERS belongs to plan members – and we deserve to know details of what is being debated and being voted on by the OMERS Sponsors Corporation Board of Directors on June 24th.
Click here for a NEW Myth Buster Document where we unpack some of the "spin" that is being used by some to disguise the very worst parts of this proposal to remove guaranteed indexing.
Click here for a NEW CUPE Ontario Webinar recording on the proposed changes at OMERS. It's full of important information about what's at stake – with questions from plan members – and what YOU can do to try to stop it!
Click here for a NEW letter from CUPE New Brunswick that describes the devastating impact of the original "Shared Risk" pensions which came out of their province.
TAKE ACTION AND SHARE the FACTS – it's important to get these NEW TOOLS out to as many OMERS members as possible and to make sure OMERS hears the voices of members.
Click here to send the OMERS Board of Directors a message to Defend Your OMERS pension.
Click here to share the Myth Buster Document on Facebook.
Click here to share the Webinar.
Click here for a number to CALL OMERS Directly – they NEED to hear from plan members.
In solidarity,
Fred Hahn
President, CUPE Ontario
May 20, 2020
They're at it again.
For the 3rd time in 4 years, OMERS is pushing a proposal to eliminate guaranteed indexing which, if passed, could allow inflation to erode the value of our pension.
The OMERS Sponsors Corporation (SC) Board of Directors is barging ahead during a pandemic with a vote to eliminate guaranteed indexing on June 24th, a plan that has already been rejected twice. This, despite tens of thousands of us already demanding that they postpone the vote until after the COVID-19 crisis.
Will you add your name to defend guaranteed indexing and a dignified retirement for all?
The OMERS SC Board of Directors is made up of 50% Worker Representatives and 50% Employer Representatives. The proposal to eliminate our guaranteed indexing requires a two-thirds vote to pass. We know the Employer Representatives have been pushing this for years.
If Worker Representatives stand united, we will defeat this harmful proposal and defend our guaranteed indexing. We know we can count on the CUPE Ontario, CUPE Local 79 and OPSEU Representatives to vote NO – but that won't be enough.
It's important that the Board Members hear from the workers that they represent. We need to speak out and tell them to stand united and vote NO to eliminating our guaranteed indexing.
If it passes, this proposal will eliminate an important and valuable pension benefit for OMERS members. It will mean OMERS members, particularly younger workers, will have less valuable, and less secure pensions in retirement.
To understand just how bad "Shared Risk Indexing" really is, CUPE Ontario has developed a Frequently Asked Questions which can be found by clicking here.
In solidarity,
CUPE Ontario
Tell the OMERS Board: VOTE NO to eliminating guaranteed indexing
March 1, 2020
Join the CUPE contingent at the 2020 International Women's Day rally and march.
Sunday March 8, 2020
OISE Auditorium 252 Bloor St. W.
Rally starts at 11:00am | March starts at 1:00pm
Fair at Ryerson University, 55 Gould St. starting at 2pm
January 27, 2020
(le français suit)
Over the last two years, some members of the OMERS Sponsors Corporation (SC) Board have attempted to remove the guaranteed indexing of your pension. So far, CUPE Ontario, allies, and plan members have been able to defeat these attempts.
Unfortunately, there is a good chance that this year another attempt to remove your pension's guaranteed indexing will be made.
Let's be clear. The OMERS plan is doing well and when you retire you deserve to have a pension that keeps up with inflation.
Please take a moment and send this email to OMERS CEO Michael Rolland and other members of the SC board.
Let them know you want pension indexing preserved.
In solidarity,
CUPE Ontario
January 14, 2020
As you are probably aware, late last year the OMERS Sponsors Corporation (SC) Board passed a series of dramatic by-law changes. CUPE Ontario launched a campaign to protect members' rights and OMERS plan members were able to successfully push back several of the changes. Unfortunately, many others were adopted.
As a result of OMERS' refusal to formally provide CUPE Ontario and plan members with the actual text of the by-law changes, the only way to do a full analysis of what the OMERS SC Board voted to change was through a side by side reading of the 'old' and 'new' by-laws. CUPE has now completed that process which is summarized below
Click here for an update on changes to OMERS by-laws.
Throughout this incredibly frustrating process, CUPE Ontario worked with our allies, our SC Board Representatives and thousands of OMERS plan members to fight for our rights at our pension plan. While there were some important victories, we are deeply disturbed by the changes that were made to OMERS' governing documents without proper notice, disclosure, or consultation.
As the union representing almost half the active plan members in OMERS, CUPE Ontario knows it is our duty to act as the guardian of not only plan members' assets and retirement benefits, but their central role in the governance of this plan. We will continue to take whatever steps are necessary to protect CUPE members' rights and retirement income security in OMERS.
CUPE Ontario
January 14, 2020
The enclosed package contains important information for your members. A summary of the contents is provided for your guidance, along with suggested action.

Highlights of the December 2019 National Executive Board meeting

Distribute the information throughout your local to keep your members up-to-date on what's happening within the union.

National President's Report and National Secretary-Treasurer's Report to the December 2019 National Executive Board meeting

Circulate the reports to members of the executive and make them available to interested members for their information.

Notice – 2020 Trustees' Report Package

New for 2020! The Trustees' Report Package will be sent electronically in the coming weeks. The e-mail will be sent to the Local Secretary-Treasurer as well as your local's default contact with links to the CUPE website in order to download the necessary documents.

Monitor your inbox to ensure your local complies with Article B.3.12 of the CUPE Constitution.